Clara Belle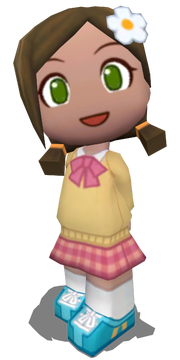 Character Info

Edit
Clara Belle (first name Clara, middle name Belle) is a pretty young girl. She checks into the hotel in hopes of having a home in your town. This cute girl has emerald colored eyes, brown hair in pigtails with a pretty white flower, and wears a yellow sweater with a pink bow and a pink plaid skirt with blue sneakers.
Profile
Some people say Clara's middle name is 'cute', but that's just silly. It's actually Belle.
Interests
Hates
Dialogue
Hotel Introduction
Hey there, I'm Clara! This town looks adorable. Can I live here?
Accept Move-In
Oh, cool! I get my own house? I love this town already.
After You Build House
This is the greatest! I hope I make lots of new friends here.
Request For More Stuff
Um, I know you already built this whole house and all...but if you get time to make me some Cute new furniture, I'd just love it!
Star Level 2
How far do you think a cloud travels in a day? Think of all the different places it gets to see!
I love this town! It feels like the sun is always shining! Oh, except when it's nighttime…
Star Level 3
Everyone is interested in different things. For example, I love Cute things! The cuter something is, the more I love it.
Star Level 4
Do you think trees get tired of standing in the same place all day? If I was a tree, I think I'd go nuts with boredom.
Star Level 5
Do rocks really just sit there? I bet they all switch places with each other when we aren't looking. Tricky rocks…
Best Friend
Ooh, [player name], you are my best friend forever!! I love my cute house!
Best Friend Reward
Coffee Table - Mouse blueprint
Ad blocker interference detected!
Wikia is a free-to-use site that makes money from advertising. We have a modified experience for viewers using ad blockers

Wikia is not accessible if you've made further modifications. Remove the custom ad blocker rule(s) and the page will load as expected.