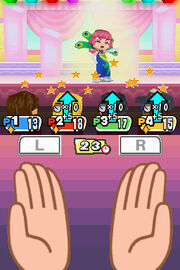 Clap Happy is a minigame run by Ms. Nicole Vogue.
Description
Edit
Nicole: Welcome to my fabulous, fabulous fashion show, darlings! What do you think about my clothes? If you like them, just applaud! Make it loud, though!
Recommended Stat(s)
Edit
Ad blocker interference detected!
Wikia is a free-to-use site that makes money from advertising. We have a modified experience for viewers using ad blockers

Wikia is not accessible if you've made further modifications. Remove the custom ad blocker rule(s) and the page will load as expected.