Chef Watanabe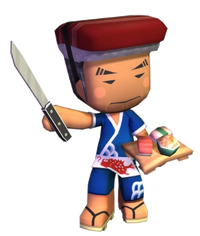 Character Info

Edit
Chef Hisao Watanabe owns a Sushi resturant in the Greenwood Forest suburb of Speedville. He is often out to sea, catching fish for the business, or busy in the kitchen so his niece will sometime run the resturant. When he returns from fishing, Hisao will ask you to collect pieces of sushi from around the track to use them to make a special recipe before his rival. Watanabe will then sponsor a race on one of the forest tracks to attract customers.
Missions
Ancient Secret Recipe
Aim: Find the missing recipe fragments before time runs out.
Introduction: Kannichiwa, [player name]-san! My niece Sachiko has told me about your racing exploits. It is a great honor to meet you! // Now we need your help again! A rival and I are competing for an ancient secret recipe for the most exquisite tuna roll. // The recipe fragments are scattered on the racing track. You must get them all or my rival will be victorious! // Can you help us, [player name]-san?
Gold Target: Collect 70 items
Silver Target: Collect 55 items
Bronze Target: Collect 35 items
Course: Bayou Boardwalk
Completion: Subarashil! My niece was right! Please take this, it is rightfully yours.
Reward:
Classic Race Car
Sushi Race
Aim: Finish the race in 1st, 2nd or 3rd.
Introduction: Ah, [player name]-san! My restaurant is sponsering a race on the new forest track and we want you to race in it! // It would mean a lot to us if you did. Can we count on you?
Gold Target: Finish in 1st place
Silver Target: Finish in 2nd place
Bronze Target: Finish in 3rd place
Course: Darkwood Falls
Completion:

Reward:

Bowties
Best Friend Reward
Kitty
Ad blocker interference detected!
Wikia is a free-to-use site that makes money from advertising. We have a modified experience for viewers using ad blockers

Wikia is not accessible if you've made further modifications. Remove the custom ad blocker rule(s) and the page will load as expected.