Chaz McFreely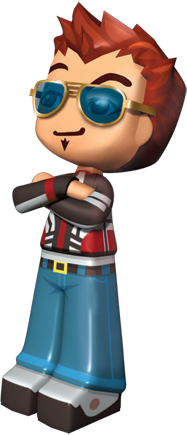 Character Info

Edit
Chaz McFreely is a student at The Royal Academy and lives with Travis, Summer, and Liberty in the island's school dorms. He is into extreme sports and often overuses the word "extreme". He also likes to kind of be a bully to Travis at the school. Chaz would probably rather be doing stunts and being "extreme" than learning at school. Chaz has caused some mishaps at the Royal Academy. He threw all the school classroom equipment at the beach to make room for a shooting for a movie (and all of the equipment washed away into the ocean). You are to clean up after Chaz's mess using your powers as the Royal Wandolier. At the school prom, he is voted by his peers to be the prom king at the dance, and dances with either Summer if the player chooses Liberty for Travis, or Liberty if the player chose Summer. He taunts Travis about this, but Travis doesn't seem to care. Later, however, he wonders whether the title "prom king" is worthy and then says that he thinks it might be "too traditional" for him.
Profile
Chaz McFreely is willing to try anything twice: once to master it, and once to take it to the most EXTREME level possible! Can you handle this much EDGY?!
Ad blocker interference detected!
Wikia is a free-to-use site that makes money from advertising. We have a modified experience for viewers using ad blockers

Wikia is not accessible if you've made further modifications. Remove the custom ad blocker rule(s) and the page will load as expected.