Chaz McFreely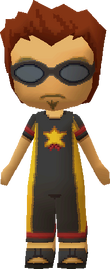 Character Info

Edit

Chaz McFreely is a sports extremist who lives in bayside. His house over looks the beach where he spends most of his time. He has his own trend: water kite surfing. He is always out at the beach except for at night. He thinks he is really cool and awesome. He is very important, as to get to Tiayrret Island you have to kite surf there. He only has one mission for you: defeat his kite surfing record. Each time you play a different difficulty, he gives you a new kite, such as umbrella, turtle, or seagull.Yo can play thisas a mini game with you'r friends. He loves the narly waves in (town name), so he lives on the beach. He started the recent kite surfing trend!
Tasks
Challenge from Chaz
Chaz, is always up for a new challenge, so he wants to see if you can defeat his kite surfing record. Give hime a nice surprise by beating his record!
Ad blocker interference detected!
Wikia is a free-to-use site that makes money from advertising. We have a modified experience for viewers using ad blockers

Wikia is not accessible if you've made further modifications. Remove the custom ad blocker rule(s) and the page will load as expected.