Chaz McFreely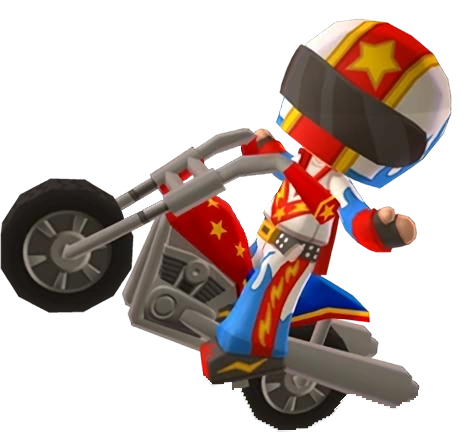 Character Info

Edit
Chaz McFreely is an extreme sports stuntman. He resides in the parking lot behind the boardwalk shops at the beach. He, with the help of his number one fan Tim, set up a stunt that involves ramps and a ring of fire. He performs stunts of himself riding up the ramps on his motorcycle and soaring through the firey ring, earning the applause of the fans, including Tim and Taylor. Chaz is rivals with the talented surfer Luke. He claims surfing is stupid and not extreme, but the truth is he just can't swim. Tire tracks are found around the surfboards on the beach that make him a suspect in the breaking of Luke's boards, but Chaz didn't do it. Chaz later gives a dispatch mission where he wants your team to give him another out of this world stunt. Your agents ace the mission and give Chaz another idea for a EXTREME stunt (although he claims he did most of the work).
Dispatch Missions
The Extremest Case
Description- Yo! This is Chaz McFreely. Yes, THE Chaz McFreely. I'm headlining this year's X-Treem X-Po, but i've already performed every trick known to man! I need a crack team of extremegineers to invent my next big trick--something no one has ever seen before! Can you help me?
Difficulty- 4/5
Duration- 3/12
Skills- Athletic/Charisma
Rewards
- New outfits and an object for the HQ!
Ad blocker interference detected!
Wikia is a free-to-use site that makes money from advertising. We have a modified experience for viewers using ad blockers

Wikia is not accessible if you've made further modifications. Remove the custom ad blocker rule(s) and the page will load as expected.