Chaos Pirates
Talk

7
1,447pages on
this wiki
The organization
Chaos Pirates
appears
MySims SkyHeroes
. It has been said that they have "taken over the skies". The Chaos Pirates consist of Raphael, Rose, Dragomir and Svetlana. The Chaos Pirates were once a bounty hunter group looking for work until Morcubus hired them to work for him. They are mainly in charge of keeping other pilots under control and protecting the games bosses.
Employees

SPOILER WARNING!!! Plot and/or ending details follow.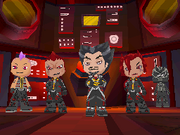 SPOILER WARNING!!! Spoilers end here.