Build-a-Bridge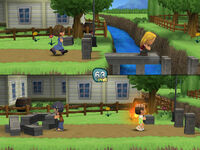 Build-a-Bridge

Edit
Build-a-Bridge is hosted by Stephen. He needs your help to help build the bridge. You are to team up with one of the other competitors in the minigame. You and your partner's goal is to advance through a bridge faster than the other team. However, the bridge is incomplete, so you and your partner have to build a bridge and get across before the other team does.
Description
Edit
Stephen: I designed a bridge, but the stones are too heavy to carry alone. Can you form pairs and help me build this bridge?
Recommended Stat(s)
Edit
Festival Appearance(s)
Edit
Ad blocker interference detected!
Wikia is a free-to-use site that makes money from advertising. We have a modified experience for viewers using ad blockers

Wikia is not accessible if you've made further modifications. Remove the custom ad blocker rule(s) and the page will load as expected.