Bug Me!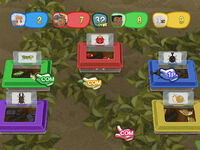 Bug Me! is hosted by Gertrude Spackle. While she was walking, holding her bug cages, she tripped, they fell, they opened. She needs you to collect the bugs and put them back in the right cage.
Place 5 types of bugs in the proper cages. The player who collects the most bugs wins.
Description
Edit
Gertrude: My bugs! My bugs! Can you help me put them back in their cages? They're my friends, so be gentle!
After Finishing
Edit
Gertrude: Yay! All my little pals are back home! Thank you so much! If they escape again, I'll come bug you. Here are your scores.
Controls
Edit
Point Wiimote: Move cursor
A Button: Catch/release bugs
Recommended Stat(s)
Edit
Festival Appearance(s)
Edit