Brandi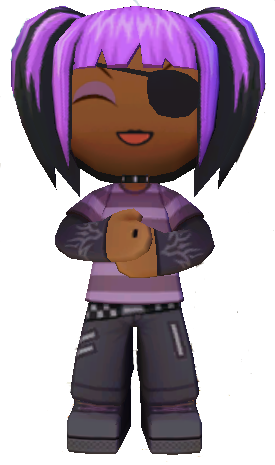 Character Info

Edit
| | |
| --- | --- |
| Townie or Commercial? | Townie Sim |
| Star Level | Star Level 5 |
| Role | Excessive Liar, Bully, Prankster |
| Residence Name | Brandi's House |
Brandi is a spooky resident whom will come once your town has reached a bustling population. She is a big liar and likes to pull pranks on people. She will normally fib whenever you talk to her. She wears an eyepatch and has black and purple hair. She wears a t-shirt with dark and light purple stripes, with a black undershirt, and black pants.
Profile
Brandi has earned a reputation for lies and mischief. She'd tell you it's undeserved, but she'd be lying.
Interests
Hates
Dialogue
Hotel Introduction
Hey, I'm Brandi. This looks like a nice place to cause some serious trouble. Heh heh heh…
Accept Move-In
Move here? Well, you asked for it…sure! Hehe…
After You Build House
Thanks for the house. And, um, if anything scary happens while I'm here…it wasn't me. Heh heh heh…
Request For More Stuff
I like scaring people. You think this place could be made a bit scarier, so people get totally freaked out when they come in? Heh heh.
Star Level 5
Deep in the forest lies a realm of utter darkness. Neat!
Best Friend
You're pretty cool. I guess I won't be giving you any trouble.
Best Friend Reward
Bathtub - Spider blueprint
Ad blocker interference detected!
Wikia is a free-to-use site that makes money from advertising. We have a modified experience for viewers using ad blockers

Wikia is not accessible if you've made further modifications. Remove the custom ad blocker rule(s) and the page will load as expected.