Bloomin' Blossoms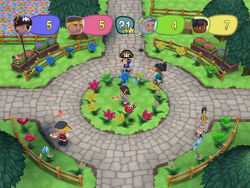 Bloomin' Blossoms

Edit
Bloomin' Blossoms is a minigame run by Poppy in MySims Party and she needs help watering her flowers. You must also avoid bees in the flowers. This minigame 1st appears in the Happy Festival, which Poppy also hosts.
Water the flowers and make them bloom! The player who makes the most flowers bloom is the winner.
Description
Edit
Poppy: I planted a bunch of cute flowers around the park, but they need water to bloom! Can you help me water them?
After Finishing
Edit
Poppy: Yay! Seeing all these totally cute flowers, has really brightened up my day! Thank you! Here are your scores!
Recommended Stat(s)
Edit
D-Pad: Run
Hold 2 Button: Pour water
Festival Appearance(s)
Edit
Ad blocker interference detected!
Wikia is a free-to-use site that makes money from advertising. We have a modified experience for viewers using ad blockers

Wikia is not accessible if you've made further modifications. Remove the custom ad blocker rule(s) and the page will load as expected.