Billy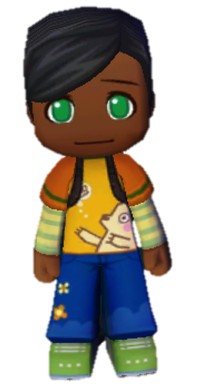 Character Info

Edit
Billy is a townie sim that visits your town at a certain population in your town. He goes to your town's hotel and waits to find his own home. If you let him live in the town, he will be pleased. Long ago, Billy lived in the town, but quickly left with the "Essence Master" and many of the other residents in the town.
Ever wonder what happens when you spend all night stargazing? Ask Billy. He knows!
Interests
Edit
Dialogue
Edit
Hotel Introduction
Edit
Hi, I'm Billy. Do you ever look at the stars and just dream of what's out there?
Accept Move-In
Edit
Is my future really here? That's exciting. That sounds great!
After You Build House
Edit
Thanks for making me such a great house. I can't wait to see what the future holds here.
Request For More Stuff
Edit
I really wish my house was a place where I could look forward to a super happy tomorrow.
Star Level 5
Edit
Do you ever look at the stars and wonder what's out there? I do all the time.
Sometimes I look at the constellations and wonder... is there a constellation out there looking at me?
If you just look at the sky for awhile, you'll realize the future's not that scary, it's just different.
When you look up at the stars, you realize that today's stars are yesterday's dreams.
Best Friend
Edit
Thanks for helping make my house so happy and exciting. I love being here. It's so great.
Best Friend Reward
Edit
Telescope - Octopus blueprint
Foreign Name:
Edit
English: Billy
Spanish: Guille
French: Billy
Ad blocker interference detected!
Wikia is a free-to-use site that makes money from advertising. We have a modified experience for viewers using ad blockers

Wikia is not accessible if you've made further modifications. Remove the custom ad blocker rule(s) and the page will load as expected.