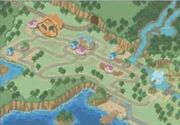 Autumn Bay is the town in which the secret town treasure is stolen from the mischievous Thief V. The treasure is what brings visitors and people to town, it's a main attraction! It is a small town compared to the City. The recently-elected Mayor Hopkins resides at the town hall of the Town Hall Plaza section of town. The Town Hall Plaza is consisted of several buildings and houses that include a furniture store runned by Abel and the curio shop of DJ Candy that turns into a disco club at night.Ashley who is the essence snythsiser. In the neighboring Station Plaza, a restaurant runned by Chef Gino and the police station of Officer Ginny can be found by the railway as well as Martin's home. The next neighborhood is Little Lea Lake where snack maker Tim lives in his house. In the "way out back of beyond" is the Open Meadow and it's an expansive area, with an empty house located there. The next neighborhood is the Bayside, where it can be found Chaz's house, complete with a beautiful view of the ocean. The East Village is located north of the Bayside. Michelle the announcer, Katie the tailor and Violet the florist all live in this neighborhood. At the start of the game, you can rename the island as you want.
Ad blocker interference detected!
Wikia is a free-to-use site that makes money from advertising. We have a modified experience for viewers using ad blockers

Wikia is not accessible if you've made further modifications. Remove the custom ad blocker rule(s) and the page will load as expected.