Ashley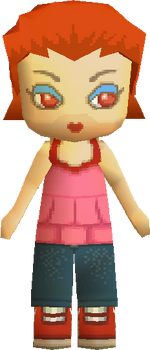 Character Info

Edit

Ashley appears in MySims Party hosting a minigame called Pretty Pottery in which you plant the right flowers in the right place for her. Her minigame is used for a team event.
Ashley lives in the forest and is known for selling flowers, similarly to Poppy, however in MySims Party she does not sell flowers. Her hairstyle is orange and is a front-spike as she does in MySims. Her house is cute themed and the colour inside her house is mainly white. She does have a relative that, but they do not appear in the game.
Ashley's minigame requires speed and power and you must plant as many flowers into flower beds as soon as possible, the flowers do not just go into any old place- they must be put where Ashley wants it to be and if you don't you will get a time penalty and you will be told off by Ashley.
This article/section is a stub.
This article/section is short and lacking information. You can help MySims Wiki by expanding it.
Ad blocker interference detected!
Wikia is a free-to-use site that makes money from advertising. We have a modified experience for viewers using ad blockers

Wikia is not accessible if you've made further modifications. Remove the custom ad blocker rule(s) and the page will load as expected.