Annie Radd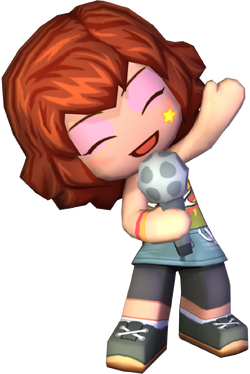 Character Info

Edit
Annie Radd hosts the minigame, Make the Band. She needs help selecting a guitarist for her concert, so she holds a contest to see who could be her best guitarist. Whenever the spotlight hits your sim, you must shake your Wii remote and play the guitar.
Dialogue
During Minigame Dialogue
Hey! Why don't you join my band? Here's a guitar. When the spotlight's on you, all you gotta do is ROCK!
Wooo! That was an awesome concert! ROCK ON! Let's see how our audience scored your performance.
Dialogue about her Minigame
Just relax and follow the commands. Of course, if you mess up, the crowd will riot and you'll lose some points.
The guys that run the lights are pretty uptight. If you mess up your performance, they'll lower your time in the spotlight!
It takes a lot of "Stamina" to play guitar. I wanna rock the world, so please don't mess up, 'K?
Miscellaneous Dialogue
Maybe I should grow out my hair. Longer hair's great for head banging, but it might get in the way when I sing...
Hey, [player name]! Why don't you take a break from your walk and have a KILLER air guitar session with me? Rock on!
Skills
| Power | 2 |
| --- | --- |
| Speed | 2 |
| Stamina | 4 |
| Luck | 1 |
Ad blocker interference detected!
Wikia is a free-to-use site that makes money from advertising. We have a modified experience for viewers using ad blockers

Wikia is not accessible if you've made further modifications. Remove the custom ad blocker rule(s) and the page will load as expected.