Annie Radd
Character Info

Edit
Annie Radd is a rockstar client with a dispatch mission, "Roadie Despair". She's in a predicament - her roadies have gone on strike and without their cooperation, she can't perform her shows! She needs a few agents to help figure out what's wrong. Turns out, the roadies went on strike because Annie's manager ordered chipotle mayo instead of lemon aioli (kinds of foods). Your agents help negotiate a deal: double the mayonaise rations! Some of the songs Annie plays in her shows are "All the Animals" and "Kitten's Got Claws". After her problem is solved and she can resume rocking out, she will offer to be a recruit for the SPA.
Dispatch Missions
Roadie Despair
Description- It's terrible, -player name-. My latest tour is in danger of being cancelled. All my roadies are on strike and I can't stage a show without them!
Difficulty- 1/5
Duration- 4/12
Skills- Charisma, Smarts
Reward- Some objects for the HQ and a new recruit!
Profile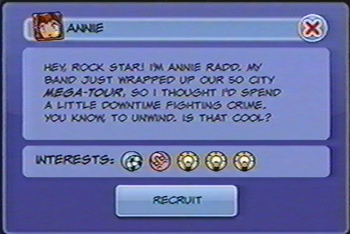 Recruit Request Message: Hey, rock star! I'm Annie Radd. My band just wrapped up our city mega-tour, so I thought I'd spend a little downtime fighting crime. You know, to unwind. Is that cool?
Interests
Ad blocker interference detected!
Wikia is a free-to-use site that makes money from advertising. We have a modified experience for viewers using ad blockers

Wikia is not accessible if you've made further modifications. Remove the custom ad blocker rule(s) and the page will load as expected.