Annie Radd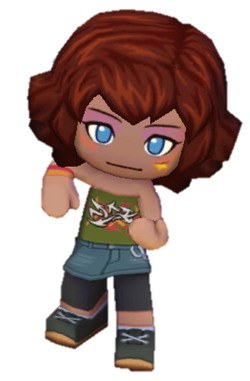 Character Info

Edit
Annie Radd is a rock star. She is often seen playing an air guitar or doing head bangs. She also has a guitar-themed karaoke machine, and becoming her best friend will allow you to obtain a blueprint of it. Annie loves to hang at DJ Candy's night club, and tends to say the word "Rockin'" a lot. She wears a green shirt with a pant skirt, has pink eye shadow, blush, and mascara, light blue eyes, a star tattoo on her left cheek, a jogger's wristband, and has long, curly red hair.
Profile
Hello, [town name]! Annie Radd is here... to... ROCK!!! So tune up your air guitars and get ready!
Interests
Hates
Dialogue
Hotel Introduction
Yo, what's goin' on, [town name]? I'm Annie Radd! Are you READY…TO…RAWK???
Accept Move-In
Sure thing! I'd love to add [town name] to my World Tour!
After You Build House
Wow! My own private place? Where I can crash between shows? Wicked…
Request For More Stuff
Yo, [player name], we need to fill this place wall-to-wall with Fun stuff. It'll, like, foster my creative nature, right?
Star Level 4
Did you hear about the new game Axe Mavens? You rock out and get the pointxxors! Rockkk!
Although rock music is, by its nature, the greatest art form ever created, I do appreciate a stirring symphony or the subtle inspiration of a delightful sonata every now and then. ...Wait, what did I just say? Alright, time to get back to RAWKIN' THE WORLD!
Star Level 5
Have you met Odin Revolution? He's a cool guy, but I think he has his Norse Mythology a bit mixed up.
Best Friend
[player name], you are a RAWK STAR! You can have front row tickets to my shows whenever you want!
Best Friend Reward
Karaoke Machine - Guitar blueprint
Ad blocker interference detected!
Wikia is a free-to-use site that makes money from advertising. We have a modified experience for viewers using ad blockers

Wikia is not accessible if you've made further modifications. Remove the custom ad blocker rule(s) and the page will load as expected.