Amelia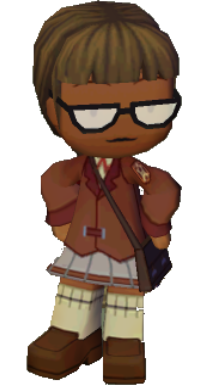 Character Info

Edit
Amelia is a studious young woman who will come once you have reached a middle point in your town rating. She is quite a bookworm seeing as she is often home alone, reading. She has brown hair in a braid down her back, has dark skin, and wears semi-circular black-rimmed glasses. She also wears a chocolate brown school-girl outfit and carries around a dark brown messenger bag.
What's better than a good book? A great book! Amelia enjoys both, but if you ask, she'll fib and say otherwise.
Interests
Edit
Dialogue
Edit
Hotel Introduction
Edit
Greetings. I'm Amelia. Have you read any decent books lately? I know I have!
Accept Move-In
Edit
Well, if there are enough books here, then I'm game. I do hope you'll make me a house that has a nice reading corner.
After You Build House
Edit
It is very interesting to be in this town—intellectually, I mean. There seem to be many things that I can learn.
Request For More Stuff
Edit
As much as I enjoy my home, I wish there were books lining the walls. I wish there were books lining the books lining the walls, even!
Star Level 4
Edit
People always say that computers are going to replace books. That's ridiculous! Computers don't smell so fresh and woodlike.
I enjoy a good mystery now and then, but I prefer non-fiction, as I feel it gives me the best outlook on the world around me while keeping be grounded and centered.
Why would you say books have a spine? They have no neck, no torso. It's most curious!
Books should have numbered pages. That's just a fact. If they didn't have numbered pages, how would you know where you were in the grand scheme of things?
Star Level 5
Edit
Please heed my advice! Keep books away from open flames. I learned the hard way. It was most upsetting…
The world makes readers and the world makes writers. Alas, I am only a reader. If only I could be a writer, spreading joy through books the way books spread joy through me.
What fonts do you like best? Serifs or sans-serifs? I'm particularly fond of serifs. I feel they increase readability while giving a distinguished air to anything in the written form.
Best Friend
Edit
Fantastic! You've really turned my home into a place worthy of my studies. You have my gratitude.
Best Friend Reward
Edit
Bookshelf - Art Deco blueprint
Foreign Name
Edit
English: Amelia
Spanish: Amelia
Japanese: Ameria
Ad blocker interference detected!
Wikia is a free-to-use site that makes money from advertising. We have a modified experience for viewers using ad blockers

Wikia is not accessible if you've made further modifications. Remove the custom ad blocker rule(s) and the page will load as expected.