Abigail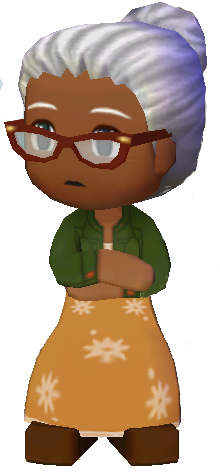 Character Info

Edit
| | |
| --- | --- |
| Townie or Commercial? | Townie Sim |
| Star Level | Star Level 5 |
| Role | "Mistress of Order" |
| Residence Name | Abigail's House |
Abigail is a very smart, old woman who will fix anything that has become socially corrupt. She thinks of herself as a mistress of order in a world of chaos.
Abigail loves language. Crosswords fill her head from dawn till dusk. Four across, "Stop Running!" Halt!
Interests
Edit
Dialogue
Edit
Hotel Introduction
Edit
Some call me an old fuddy-duddy. I call myself Abigail, Mistress of Order in a world of Chaos.
Accept Move-In
Edit
Do you really think this town could benefit from my organizational skills? If so, I accept your offer and will move here immediately!
After You Build House
Edit
It's exciting to be here, to be sure. However, there is much that could be improved here in this chaotic town.
Request For More Stuff
Edit
A home should be a place of work, not relaxation. I hope that someday my own home becomes a place of Study and exertion.
Star Level 5
Edit
There is no fine line between chaos and law. There is a rift betwixt them.
I believe that closets are the only place of order and organization in the universe.
I believe color coding and alphabetization to not be mutually exclusive.
Best Friend
Edit
My house is a den of toil, and this is a wonderful town to live in! Many thanks to you for everything.
Best Friend Reward
Edit
Foreign Name
Edit
English: Abigail
Spanish: Abigail
Germany: Andrea
French: Rachel
Ad blocker interference detected!
Wikia is a free-to-use site that makes money from advertising. We have a modified experience for viewers using ad blockers

Wikia is not accessible if you've made further modifications. Remove the custom ad blocker rule(s) and the page will load as expected.